BCAA
Enhanced Muscle Maintenance
---
Gundry MD™ BCAA blend is a cutting-edge formula made from powerful branched chain amino acids. Branch chain amino acids play a vital role in managing and maintaining your muscles and energy levels, which is vital as you age.
Gundry MD™ BCCA Blend is proven to:
Support your body's natural muscle growth and development
Boost energy levels and help manage fatigue
Improve feelings of endurance
Soy-free/Dairy-free/Gluten-free/Non-GMO
Easy-swallow cellulose capsules
Quantity
Retail Price:
Regular Price:
Savings:
Subscriber Savings:
Subscriber Savings:
<<<<<<< HEAD
Free Shipping on all US Orders Over $60
=======
Free Shipping on all US Orders

Over $60
>>>>>>> master
Add to Cart
Gundry MD™ BCAA Blend is specially formulated to nourish your body with the essential branch chained amino acids you can't make on your own. Our BCAA Blend features the essential BCAAs, leucine, and isoleucine, both thought to play a vital role in helping your body use and make protein.1
To make Gundry MD™ BCAA Blend even more powerful, we've also included a 3rd amino acid, glycine, shown to help your body make and produce protein more efficiently.
In short, Gundry MD™ BCAA Blend helps build a foundation that keeps your body strong. It's the perfect formula for anyone who wants to:
Enjoy high energy levels and focus, all day
Maintain strong, healthy, muscles 2
Help their system process and manage healthy glucose levels 3
Feel satisfied and confident in their body weight 4
1. "The Effect Of Branched Chain Amino Acids (BCAA) On Postoperative Muscle Protein Synthesis And Nitrogen Balance". Clinical Nutrition 4(1985): 68. Web.
2. Shimomura Y, et al. "Nutraceutical Effects Of Branched-Chain Amino Acids On Skeletal Muscle." J. Nutr. Ncbi.nlm.nih.gov. N.p., 2006. Web. 1 Mar. 2017.
3. Doi, M. et al. "Hypoglycemic Effect Of Isoleucine Involves Increased Muscle Glucose Uptake And Whole Body Glucose Oxidation And Decreased Hepatic Gluconeogenesis". AJP: Endocrinology and Metabolism 292.6 (2007): E1683-E1693. Web.
NOTE: Gundry MD™ BCAA Blend assists in naturally maintaining glucose levels in people whose glucose levels are already within normal range. Gundry MD™ BCAA Blend IS NOT DESIGNED TO HELP MAINTAIN GLUCOSE LEVELS IN PEOPLE WITH DIABETES OR THOSE WHO ARE PRE-DIABETIC. If you are diabetic or pre-diabetic, or suspect that you are, please see your doctor about appropriate treatment.
4. Qin, L.-Q. et al. "Higher Branched-Chain Amino Acid Intake Is Associated With A Lower Prevalence Of Being Overweight Or Obese In Middle-Aged East Asian And Western Adults". Journal of Nutrition 141.2 (2010): 249-254. Web.
5. Buse, M G and S S Reid. "Leucine. A Possible Regulator Of Protein Turnover In Muscle.". Journal of Clinical Investigation 56.5 (1975): 1250-1261. Web.
6. Doi, Masako et al. "Isoleucine, A Potent Plasma Glucose-Lowering Amino Acid, Stimulates Glucose Uptake In C2C12 Myotubes". Biochemical and Biophysical Research Communications 312.4 (2003): 1111-1117. Web.
7. Adolpho, Thomas B. et al. "Influence Of Branched-Chain Aminoacids (BCAA) Supplementation On Free Fatty Acids Oxidation During Endurance Exercise After Muscle Glycogen Depletion". Medicine & Science in Sports & Exercise 37. Supplement (2005): S349. Web.
8. "Amino Acid Requirements Of Man". Nutrition Reviews 8.4 (2009): 118-120. Web.
DR. GUNDRY'S 90-DAY MONEY BACK GUARANTEE
---
I believe Gundry MD™ BCAA Blend will give you real relief and make a significant difference in your energy levels, muscle health, and overall wellbeing. However, there might be a small number of people who don't find BCAA Blend as helpful as they'd like.
That's why every bottle of BCAA Blend is backed by my 90-day guarantee. If, for any reason, you don't get exactly what you're looking for from BCAA Blend just return your bottles, empty or full, for a refund — no-questions-asked.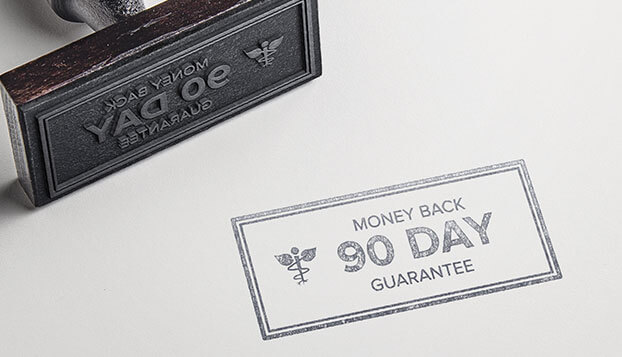 FREQUENTLY ASKED QUESTIONS
---
WHAT ARE THE INGREDIENTS IN GUNDRY MD™ BCAA BLEND?
HOW PURE IS GUNDRY MD™ BCAA BLEND?
Gundry MD™ BCAA Blend contains only 100% natural ingredients. The formula is tested for quality and purity at an independent, 3rd-party facility. However, as a physician I recommend consulting with your own health care provider before beginning any new program.
HOW DO I USE GUNDRY MD™ BCAA BLEND?
Simply take 3 capsules of BCAA blend once daily, with water. You can take your Gundry MD™ BCAA Blend capsules all together, or take one with each meal, whatever is simpler for your lifestyle.
The formula is easy to swallow and easy for your body to process.
WHAT IF IT DOESN'T WORK FOR ME? IS THERE A GUARANTEE?
As a physician, I know that individual bodies can react differently to the very same compounds. Even though everyone can benefit from the polyphenols and probiotics in this formula, I'm aware that results can vary. So, if you're unsatisfied with this product for any reason whatsoever after a full 90 days of use, I'll return your money, no questions asked…guaranteed.
Share your thoughts!
Let us know what you think...
* Every individual is unique. As such, your results can and will vary.