This formula is designed to keep your blood flowing smoothly, carrying oxygen to all essential organs, tissues, and muscles. It uses 7 natural nitric oxide-boosting ingredients that leave you feeling strong, energized, and alive — every single day.
Gundry MD™ Enhanced Circulation Formula is proven to:
Support a strong, healthy circulatory system
Naturally increase energy levels
Help your skin appear smoother and softer
Keeps your blood flowing smoothly
Vegetarian / Dairy-Free / Caffeine-Free / 90-Day Money Back Guarantee / MFG in USA
Quantity
Retail Price:
Regular Price:
Savings:
Subscriber Savings:
Subscriber Savings:
<<<<<<< HEAD
Free Shipping on all US Orders Over $60
=======
Free Shipping on all US Orders

Over $60
>>>>>>> master
Add to Cart
Gundry MD™ Enhanced Circulation Formula is specially designed to boost an important gas in your body; nitric oxide.
This oxygen-filled gas plays a critical role in keeping your arteries, veins, and blood vessels "traffic-free."
Which sparks a ripple-effect by increasing blood flow throughout your body.
Enhanced Circulation Formula is designed for:
People who want to safeguard and protect their health
People who want to maintain high energy-levels all day long
People who want to experience youthful, radiant looking skin
People who want to improve their memory and focus
KEEPING YOUR BODY'S "ROADS AND HIGHWAYS" CLEAR
When combined, these 7 dynamic ingredients in Enhanced Circulation Formula create a perfect environment for naturally healthy blood flow and overall health.
And, when taken daily, you reap all the rewards.*
You feel physically and mentally invigorated. You experience a lasting dose of youthfulness and energy. Why? Because your blood is circulating correctly, and oxygen is flowing through your system at an astonishing rate — like it was meant to. *
And by blending 7 of the best all-natural, circulation ingredients together, this formula is designed to do just that!
1. Ham DJ, Gleeson BG, Chee A, et. al. L-Citrulline Protects Muscle Cells from Cachectic Stimuli through an iNOS-Dependent Mechanism. PLoS One. 2015; 10 (10): e0141572. Published online 2015 Oct 29. DOI: 10.1371/journal.pone.0141572
2. Clifford T, Howatson G, West DJ, Stevenson EJ. The Potential Benefits of Red Beetroot Supplementation in Health and Disease. Nutrients. April 2015; 7 (4): 2801-2822. Published online 2015 Apr 14. DOI: 10.3390/nu7042801
3. Dood KP, Frey AD, Geisbuhler TP. The Effect of Hawthorn Extract on Coronary Flow. Journal of Evidence-Based Complementary & Alternative Medicine. June 13, 2013; 18 (4): 257-267. DOI: 10.1177/2156587213491428
4. Aviram M, Cornfield L, Rosenblat M, et. al. Pomegranate juice consumption reduces oxidative stress, atherogenic modifications to LDL, and platelet aggregation: studies in humans and in atherosclerotic apolipoprotein E-deficient mice1'2. Am J Clin Nutr. May 2000; 71 (5): 1062-1076.
5. Kang S, Min H. Ginseng, the 'Immunity Boost': The effect of Panax ginseng on Immune System. J Ginseng Res. Oct 2012; 36 (4): 354-368. DOI: 10.5142/jgr.2012.36.4.354
6. Lejeune MP, Kovacs EM, Westerterp-Plantenga MS. Effect of capsaicin on substrate oxidation and weight maintenance after modest body-weight loss in human subjects. Br J Nutr. Sept 2003; 90 (3): 651-659.
DR. GUNDRY'S 90-DAY MONEY BACK GUARANTEE
I've drawn on my entire 40 years of experience in cardiovascular medicine and nutrition to create this formula, with this longevity principle as my guide: "You're only as young as your blood vessels are flexible."
And I'm beyond confident this advanced circulatory formula will work for you too. As a matter of fact, I stake my medical reputation on it!
Just give Gundry MD™ Enhanced Circulation Formula a try for 90 days, completely risk-free…
If you're not satisfied with the way it makes you feel, the improvements to your daily life, and your overall health — or for any reason whatsoever — I will personally refund your entire purchase price. No questions asked.
I made this formula with YOU in mind. And the bottom line is I want you happy and healthy. Which is why I offer you this formula 100% risk-free.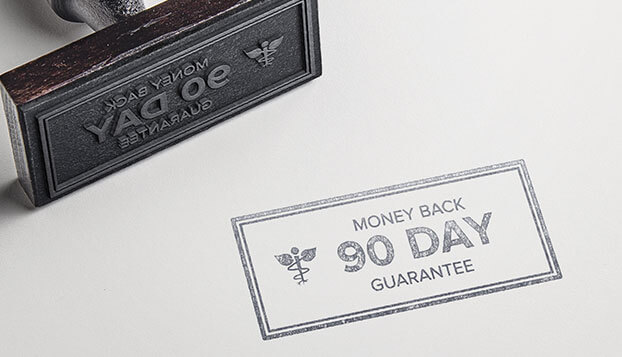 FREQUENTLY ASKED QUESTIONS
---
HOW DO I USE GUNDRY MD ENHANCED CIRCULATION FORMULA?
To experience these benefits, all you have to do is simply swallow 5 small capsules each day, with water. Once this formula hits "your system," it goes to work immediately — and you'll see the amazing results.
WHO SHOULD USE ENHANCED CIRCULATION FORMULA?
This formula is designed to help support healthy circulation for overall health and well-being. As you know, fast & efficient blood flow is essential to the function of every organ in your body. So, this formula is for anyone who wants to benefit from better brainpower, higher energy levels, a feeling of youth and vitality, and the bodily protection offered by clean, oxygenated blood.
HOW SAFE IS ENHANCED CIRCULATION FORMULA?
Gundry MD Enhanced Circulation Formula is made from 100% all-natural ingredients. The formula is tested for quality and purity at an independent, 3rd-party facility. However, as a physician I recommend consulting with your own health care provider before beginning any new program.
WHAT IF IT DOESN'T WORK FOR ME? IS THERE A GUARANTEE?
After four decades as an established physician, I know that individual bodies can react differently to the very same compounds. Despite the fact every ingredient is all-natural and loaded with proven benefits… I'm aware that results can vary. So, if you're unsatisfied with this product for any reason at all after a full 90 days of use, I'll return your money, no questions asked… guaranteed.
*Every individual is different. Your results can and will vary
1 L-Citrulline
L-Citrulline is a dual threat. First, it helps protect against free radical damage. Second, it's crucial for helping to strengthen your muscles. 1
2 Beetroot Powder
Beetroot Powder is a powerful antioxidant that can track down and eliminate dangerous free radicals roaming your body. It also helps keep your immune system in check — so it works for you and not against you. 2
3 Hawthorne Berry
Hawthorne Berry has amazing cardiovascular qualities. It works by assisting the body in widening blood vessels, which in turn increases the flow of blood. 3
4 Epimedium Sagittatum
Epimedium Sagittatum is an ancient medicinal Chinese herb and has shown an amazing ability to increase blood flow, for well over 2,000 years.
5 Pomegranate
Pomegranate is a superfruit overflowing with polyphenols and antioxidants.4
6 Korean Ginseng
Korean Ginseng is a natural "immunity booster" known for keeping the trillions of cells in your body safe and healthy. 5
7 Cayenne
Cayenne is more than just a pepper. It contains a potent natural element called capsaicin, which has a solid track record for helping to burn fat. 6
Share your thoughts!
Let us know what you think...
* Every individual is unique. As such, your results can and will vary.