PrebioThrive
Prebiotic Supplement
---
This cutting-edge formula combines five advanced prebiotic ingredients to help promote a probiotic-friendly environment in your gut. By helping the "good bacteria" in your gut to flourish, PrebioThrive supports healthy digestion, energy levels, and overall feelings of wellness.
Helps improve digestion
Aids in maintaining healthy energy and vitality
Assists in balancing healthy gut flora
Gentle, drinkable formula helps keep digestion comfortable
Soy-Free / Sugar-Free / Artificial Sweetener-Free / Lectin-Free
Quantity
Retail Price:
Regular Price:
Savings:
Subscriber Savings:
Subscriber Savings:
<<<<<<< HEAD
Free Shipping on all US Orders Over $60
=======
Free Shipping on all US Orders

Over $60
>>>>>>> master
Add to Cart
By selecting the "Subscribe" box above. You agree to receive "Prebiothrive" once per month and that your credit card will be charged the amount matching your selected package size, billed to your card as "Gundry MD" You can stop shipments anytime by calling customer service at 1-800-852-0477, from 6am to 6pm PST (All terms and conditions apply).
I created PrebioThrive using five of the most potent and effective prebiotic ingredients available: acacia gum, agave inulin, flaxseed, galacto-oligosaccharides, and guar gum. It's formulated to help you enjoy improved digestion and greater feelings of overall health and wellness.
Gundry MD PrebioThrive is formulated with purity in mind. The content of every batch is formulated right here in the USA at our CGMP-certified facility — and then tested again for content, purity, and dosage at an outside 3rd-party laboratory.
That's why we're confident PrebioThrive will help you achieve:
More efficient digestion
Reduced stomach and bowel discomfort
A more balanced gut microbiome
Boosted feelings of energy and vitality
PREBIOTICS: WHY YOU NEED THEM IN YOUR DIET
The nutritious dietary fiber-rich ingredients packed into PrebioThrive – like acacia gum, agave inulin, flaxseed, and guar gum – contain powerful prebiotics.
Prebiotics, in fact, are the microorganisms that support the healthy balance of good bacteria, called probiotics, in your gut. Probiotics exist and proliferate in your gut, but probiotic supplements (such as Gundry MD™ 24 Strain Probiotic) are available to protect that healthy probiotic bacteria against digestive dangers, including the modern American diet, antibiotics, and certain environmental factors. PrebioThrive, my prebiotic supplement, supports the balance of probiotic bacteria with a blend of dietary fiber to encourage digestive health and regularity.
In my opinion, most people just aren't getting enough prebiotic foods in their diet, thus have insufficient prebiotics in their gut, and that needs to change. PrebioThrive ensures that you'll be getting your prebiotics in the right dosages to effectively make a difference.
1 Nakov G. Prebiotic Effects of Inulin and Acacia Gum. 2016. Web. 10 August 2016. Available at: https://prezi.com/buq8nhlfoyug/prebiotic-effects-of-inulin-and-acacia-gum/.
2 Tarini J, Wolever T. The fermentable fibre inulin increases postprandial serum short-chain fatty acids and reduces free-fatty acids and ghrelin in healthy subjects. Appl Physiol Nutr Metab. 2010;35(1):9-16. doi:10.1139/h09-119.
3 Goyal A, Sharma V, Upadhyay N, Gill S, Sihag M. Flax and flaxseed oil: an ancient medicine & modern functional food. J Food Sci Technol. 2014;51(9):1633-1653. doi:10.1007/s13197-013-1247-9.
4 Niittynen, Leena, Kajsa Kajander, and Riitta Korpela. "Galacto-oligosaccharides and Bowel Function." Scandinavian Journal of Food & Nutrition. CoAction Publishing, June 2007. Web. 29 July 2016.
5Yoon SJ, Chu DC, Raj Juneja L. J Clin Biochem Nutr. 2008 Jan; 42():1-7.
DR. GUNDRY'S 90-DAY MONEY BACK GUARANTEE
---
I've put all my resources and research I've gathered throughout my long career as a heart surgeon and medical researcher into this unique formula — and I'm confident it'll work for you just like it has for so many other people. I believe PrebioThrive is one of the best prebiotic supplements available. I believe in this product so much, in fact, that I'll put my reputation in your hands and make a deal with you:
JUST TRY GUNDRY MD PREBIOTHRIVE FOR 90 DAYS…
If you don't feel a noticeable change in your digestion, and overall sense of health and wellness…I'll give you a full refund.
That's how certain I am that Gundry MD PrebioThrive will create a total health transformation.
If you don't see incredible results, I'll give your money back — and that's my personal guarantee. Even if you've used up your entire supply and you're dissatisfied — for any reason whatsoever, I'll still return your money. My US-based customer support team will make the refund process fast, easy, and hassle-free for you.
This 90-Day Complete-Money-Back-Guarantee allows you to try Gundry MD PrebioThrive with zero risk involved.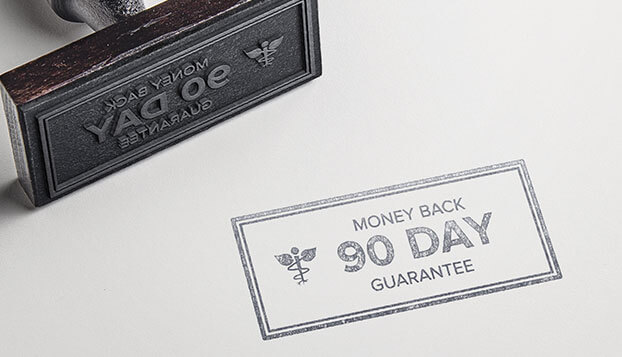 FREQUENTLY ASKED QUESTIONS
---
PrebioThrive ingredients are as follows:
HOW DO I USE PREBIOTHRIVE?
Start your day off right with a scoop of PrebioThrive in the morning. PrebioThrive is a dissolving naturally-flavored mix that tastes great in water and a variety of other beverages, including smoothies.
To experience the full benefits of PrebioThrive take one scoop daily with a beverage or blended drink, preferably with probiotics to create a symbiotic effect. Use it consistently for the best results.
WHO SHOULD USE PREBIOTHRIVE?
Anyone who is not eating enough prebiotic foods and not getting sufficient prebiotics in their diet. This prebiotic supplement is designed to help support digestive health and strengthen your immune system. It is perfect for anyone who wants to improve digestive comfort and feelings of wellness.
PrebioThrive is a supplement, and therefore, NOT designed to treat more serious illnesses. It should not be used to replace prescription medication.
HOW SAFE IS PREBIOTHRIVE?
PrebioThrive ingredients are 100% natural and safe. The formula is tested for quality and purity at an independent, 3rd-party facility. However, as a physician I recommend consulting with your own health care provider before beginning any new supplement.
WHAT IF IT DOESN'T WORK FOR ME?
As a physician, I know that individual bodies can react differently to the very same compounds. You can read PrebioThrive reviews further down this page for first-hand accounts of how the supplement has worked for others.
Even though everyone can benefit from the polyphenols and probiotics in this formula, I'm aware that results can vary.
We're incredibly proud of our industry-best customer support and equally proud of our groundbreaking supplements, which is why we back up every single one of our supplements with our 90-day customer satisfaction guarantee.
If you're unsatisfied with your results for any reason, simply contact our customer support team within 90 days of purchasing your products, and we'll refund your purchase — no hassle, no worries.
GUNDRY MD PREBIOTHRIVE: 5 FIBER-RICH PREBIOTIC INGREDIENTS
---
1 Acacia Gum
Acacia Gum is one of the most fiber-dense prebiotic ingredients on the planet.1
2 Agave Inulin
Agave inulin comes from the blue agave plant and is an excellent source of dietary fiber. Fiber-rich agave inulin tastes sweet…while having minimal impact on blood sugar levels.2
3 Flaxseed
Flaxseed is one of the great prebiotic foods readily available. It's a great source of fiber and omega-3 fatty acids to help with heart health. It also has antioxidant properties to help protect against free radicals.3
4 Galacto-oligosaccharides
Galacto-oligosaccharides (GOS) are a group of carbohydrates that are used to improve bowel function. These prebiotics can improve mineral absorption and support your immune system.4 Some prebiotic foods rich in GOS are beans and lentils–but due to their high lectin content, it's advisable to get GOS from the best prebiotic supplement available.
5 Guar Gum
Guar gum is a fibrous substance made from guar beans. Guar gum can increase fiber content in some foods and help maintain regular bowel movements.5
Share your thoughts!
Let us know what you think...
* Every individual is unique. As such, your results can and will vary.