ProbioClear is a facial deep-clean formula that harnesses the power of probiotics to make your skin feel healthier and, over time, actually look younger. This probiotic-derived ingredient blend has been shown to decrease the appearance of wrinkles and fine lines, as well keep skin clean, hydrated and healthy.
Help skin feel firmer and more "lifted"
Reduces the appearance of lines, wrinkles, and folds (especially crow's feet around the eyes and smile lines around the mouth)
Eliminates redness and gives you that smooth, even skin complexion.
Helps strengthen skin and protect against the formation of new wrinkles.
Made in USA / 90-Day Money Back Guarantee / GMP Certified Facility
Quantity
Retail Price:
Regular Price:
Savings:
Subscriber Savings:
Subscriber Savings:
<<<<<<< HEAD
Free Shipping on all US Orders Over $60
=======
Free Shipping on all US Orders

Over $60
>>>>>>> master
Add to Cart
I designed ProbioClear to deep clean your skin, as well as address unsightly facial blemishes, wrinkles, fine lines, and folds that come with age. ProbioClear delivers advanced probiotic-derived ingredients to your skin. In clinical studies this has been shown to help:
Hydrate skin and reduce redness by 33%1
Decrease fine lines and wrinkles by 62%2
Reinforce your skin's "moisture barrier" — so you can keep environmental toxins out
Soothe and soften skin, while strengthening healthy tissue
GUNDRY MD PROBIOCLEAR — COMBINING THE POWER OF PROBIOTICS WITH POLYPHENOLS
I wanted to put all the scientific knowledge we've accumulated into one breakthrough formula. ProbioClear is an expertly combined formula that contains polyphenols with probiotic-derived ingredients.
Key Ingredients:
Bonicel — This probiotic-derived cosmeceutical penetrates deep into your skin, so you can enjoy more hydration, healthy complexion, less redness, and a younger-looking face. In fact, one clinical study showed this ingredient reduced the appearance of fine lines and wrinkles by 62%.3
Saniskin — This polyphenol-enriched ingredient goes to work in your skin, giving you a deep clean that lasts all day. By protecting against oxidative stress — which when unchecked, can lead to bacterial overgrowth and breakouts — this ingredient is a powerful tool against older-looking, unhealthy skin.
Granactive — This botanical compound contains 15 naturally occurring plant amino acids. These help to open up your pores and allow for a deeper, more effective clean that eliminates bad bacteria and microbes.
NOW SMOOTHER, HEALTHIER, YOUNGER-LOOKING SKIN IS EASIER THAN EVER…
To enjoy all the deep-cleaning and age-defying effects of ProbioClear on your skin, follow these steps:
Clean skin before applying product
Apply a generous amount of ProbioClear to your face, using your hands to work the cleanser all over — especially under the eyes and around the mouth.
Rinse with warm water and use wet towel to clear any remaining product
Note: ProbioClear may be applied up to 3 times daily. If excessive drying occurs, stop use immediately and speak to your doctor.
Sources:
1 Clinical Study Confirms Bonicel Improves Multiple Anti-Aging Endpoints. https://www.ganedenprobiotics.com/bonicel/news-and-media/images_logos/Clinical%20Summary.pdf
2 Id at 1
3 Id at 1
DR. GUNDRY'S 90-DAY MONEY BACK GUARANTEE
---
We here at Gundry MD™ work hard, every day, to deliver the most advanced, cutting-edge formulas on the market today, and I want to personally say: I'm proud of every single one of our formulas. Our 90-day guarantee is designed to allow you to achieve optimal results from your products, risk- and worry-free.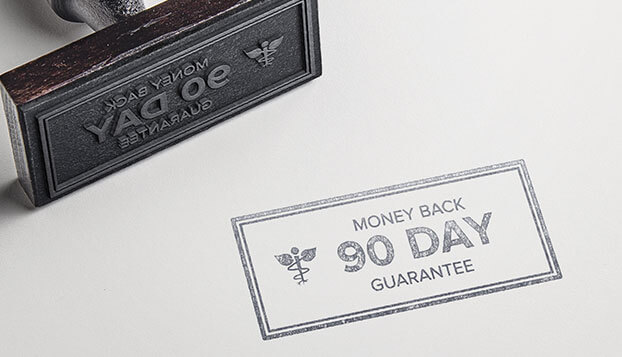 FREQUENTLY ASKED QUESTIONS
---
I have sensitive skin… is Gundry MD ProbioClear safe for me?
Absolutely. Gundry MD ProbioClear is formulated with safe, gentle, and effective ingredients that are suitable for all skin types. To be sure of this, perform a quick "patch test" by applying a small amount to an inconspicuous part of your body (like the side of your arm) and wait 24 hours to see how your skin responds.
As always, before starting any new product, I recommend using caution and speaking to your doctor if any problems arise.
How do I know ProbioClear is working?
I'm confident the ingredients in ProbioClear will start making a difference in your skin, starting on day one.
To see the results yourself, I tell all my patients to take a set of "before and after" pictures. Before your first application take a close-up picture of your face, and couple of weeks later, do a "follow-up" picture. You'll likely notice a reduction of fine lines, softer skin, and an overall better glow (plus, your skin will feel amazing!)
I suggest using the product daily for 4-6 weeks to see the maximum effects of ProbioClear on your skin.
What ingredients are in ProbioClear?
Active Ingredient:
Salicylic Acid 0.5%
Inactive Ingredients:
Aloe Barbadensis Leaf Juice, Emulsifying Wax NF, Bacillus Ferment, Butylene Glycol, Boswellia Serrate Extract, Oligopeptide-10, Oryza Sativa (Rice) Bran Extract, Honey Extract, Propanediol, Squalene (Derived from sugar cane), Dicaprylyl Ether, Heptyl Undecylenate, Glycerin, Benzalkonium Chloride, Silica, Cocamidopropyl Dimethylamine, Polysorbate 80, Butyrospermum (Shea Butter) Fruit, Ascorbic Acid (Vitamin C), Isomerized Safflower Acid, Palmitoyl Tripeptide-5, Anthemis Nobilis Flower Extract, Beeswax, Palmitic Acid, Clay, Zinc Sulfate, Fucus Vesiculosis (Seaweed) Extract, Camellia Sinensis Leaf Extract, Maltodextrin, PCA, Myristyl Alcohol, Polygonum Cuspidatum Root Extract, Steareth-20, Ceteth-20, PEG-75 Stearate, Glyceryl Stearate, Cetyl Alcohol, Caprylhydroxamic Acid, Caprylyl Glycol, Ethylhexylglycerin, Polymethylsisequioxane, Diamond Powder, Allantoin, Common Soapwort Extract, Great Burdock Extract, Ivy Extract, Lemon Extract, Lysolecithin, Niacinamide, Pullulan, Sage Extract, Sclerotium Gum, Seaweed Extract, Watercress Extract, Xanthan Gum, Sodium Benzoate, Phenoxyethanol, Tetrasodium Glutamate Diacetate, Citric Acid, Fragrance (Parfum)
What if I don't see the results I want?
ProbioClear is covered by our 90-Day Money Back Guarantee. So, if you don't experience the results you're looking for with ProbioClear — simply contact our customer service team at (800) 852-0477 Monday-Friday, 5am to 7pm PST or Saturday-Sunday, 8am to 4:30pm PST and we'll refund your money, no questions asked. Our team is also happy to answer any questions you may have.
Share your thoughts!
Let us know what you think...
* Every individual is unique. As such, your results can and will vary.