Vital Boost is a nutrition-packed (and lectin-free) dog food topper designed to help you give your pet a healthier, happier life. It's made with grass-fed beef and organ meat, as well as other raw, plant-based ingredients that support the balanced, complete nutrition your dog needs. All of our ingredients are received fresh, then gently freeze dried to "lock in" the flavor and nutrients.
Vital Boost is loaded with a colorful spectrum of polyphenols, antioxidants, and other powerful nutrients to help your dog experience:
Balanced energy levels for more relaxed, playful moods
Improved digestion for less gas and firmer, healthier poops
Healthier joints and muscles, thanks to a powerful blend of magnesium, iron, calcium, and other essential minerals
Quantity
Retail Price:
Regular Price:
Ambassador Savings:
Subscriber Savings:
Subscriber Savings:
<<<<<<< HEAD
Free Shipping on all US Orders Over $60
=======
Free Shipping on all US Orders

Over $60
>>>>>>> master
Add to Cart
Vital Boost is easy to prepare. Simply add one scoop of Vital Boost to your dog's food once per day. If your dog eats two meals a day, you can use a half scoop with each meal.
If your dog is over 30 pounds, use 1 ½ scoops a day. If your dog is over 50 pounds, use 2 scoops a day.
Flaxseed
This nutritious source of prebiotics is excellent for keeping your dog's digestion comfortable and regular, as well as boosting their energy and mood (thanks to powerful polyphenols in flaxseed called Lignans).
Salmon Skin
Not only is salmon packed with Omega-3s, which can improve your dog's cardiovascular health — it also contains compounds that keep your dog's coat shiny, healthy, and vibrant for years to come.
Chicory
Chicory is a purple flower similar to a dandelion with loads of digestive benefits. It contains nutritious dietary fiber to aid your dog's bowel movements, as well as support their immune system and gut health.
DR. GUNDRY'S 90-DAY MONEY BACK GUARANTEE
---
We here at Gundry MD™ work hard, every day, to deliver the most advanced, cutting-edge formulas on the market today, and I want to personally say: I'm proud of every single one of our formulas. Our 90-day guarantee is designed to allow you to achieve optimal results from your products, risk- and worry-free.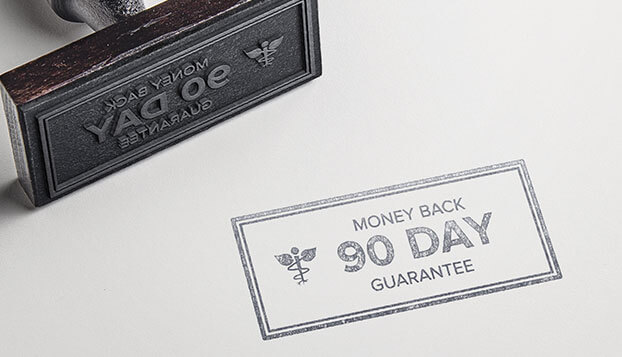 FREQUENTLY ASKED QUESTIONS
---
WHAT'S INSIDE VITAL BOOST?
MY DOG LOVES THEIR FOOD. DO I NEED TO REPLACE IT WITH VITAL BOOST?
Vital Boost was designed to be a dog food topper — meaning you do not need to replace your dog's food entirely. You can simply mix Vital Boost into their food, and they'll get all the healthy, beneficial ingredients they need.
WHICH TYPE OF DOGS BENEFIT MOST FROM VITAL BOOST?
Vital Boost was created for all types of dogs, because every dog breed requires the healthy nutrients included in this formula.
That being said, Vital Boost will be particularly beneficial to any dog struggling with gas, fatigue, indigestion, loose or watery stool, achy joints, or any other signs they could be suffering from insufficient nutrition.
HOW LONG DOES VITAL BOOST LAST?
Vital Boost is freeze-dried raw food, so it's specifically designed to last for years when stored properly. Simply store each bag in a cool, dry place, like your kitchen cabinet, and make sure to properly reseal the bag after each use. This will keep your supply of Vital Boost fresh, nourishing, and effective — even when you buy in bulk.
MY DOG IS A PICKY EATER. WHAT IF HE DOESN'T LIKE VITAL BOOST?
Every dog I have personally given Vital Boost to (including my own!) has scarfed it down, and the reason why is simple — Vital Boost is loaded with delicious ingredients dogs crave, like grass-fed beef and organ meat, sweet potatoes, salmon skin, and polyphenol-rich fruits like pineapple and blueberry.
However, if you're unsatisfied with Vital Boost for any reason, simply contact our customer service team and return your bags within 90 days — even if they're completely empty — for a full refund of your purchase price. It's that simple.
* Every individual is unique. As such, your results can and will vary.